Highlights:
Our shop Yoshikiri in Gion, Kyoto carries thousands of various authentic Ukiyoe (Japanese woodblock prints). Bring the pride of Japanese woodblock prints into your own room!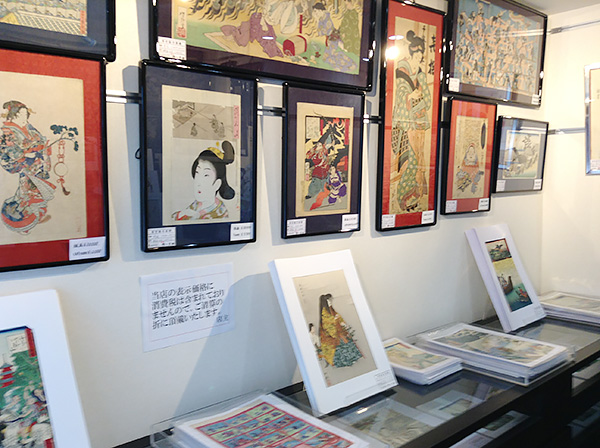 Details:
The name Yoshikiri was given to our store in respect and love of the famed Ukiyoe artist, Ichiyusai Kuniyoshi and the block prints he used which were called Yoshikiri-in. Since the start of Shinmonzen street in Gion, and its dedication to antiques in 1989, we have continued to collect pieces from in and out of the country. We have a wide selection of Ukiyoe pieces that collectors can't get enough of, and even for those who are just starting to become familiar with Ukiyoe art. We always have over thousands of various pieces to choose from. Such as pieces done by famous woodblock artists Hokusai, Utamaro, Hiroshige and Yoshitoshi. With such beautiful pieces offered at such low prices, we are often mistook as selling replicas. All of our Ukiyoe pieces are offered to you with the best of quality and authenticity.
Additional services
We can pack and ship your pieces safely to anywhere around the world. (Approx. 3,000 Yen)
Merchandise
Ukiyoe, Hanga
Recommended merchandise
We carry the most variety of valuable pieces done by Kuniyoshi.
Contact Form:


The Kyoto Shinkin Bank  Kawaramachi Branch Toza 0026134 Art Yoshikiri Wada Shigekazu
SWIFT CODE: KYSBJPJZ